Based upon our experience working with thousands of crowdfunding campaigns on Kickstarter and/or Indiegogo, here are some basic tips for providing effective customer service to your crowdfunding campaign backers…
---
For this blog entry, we'll (1) start by considering why customer service is (or should be) at the heart of any business' operations, (2) continue by overviewing some general principles for developing a customer-centered business, and (3) finish by considering five ways that you can serve your backers well during a crowdfunding campaign.
Why Businesses Should Be Customer-Centered
Entrepreneurs may believe that they work for themselves, but they actually work for both the market generally and the customer specifically—and those who fail to learn this vital lesson well enough will struggle to remain in business indefinitely. Half of all startups fail within five years, often because what they're supplying isn't sufficiently demanded.
The most important way that businesspeople serve customers (in a business sense) is by bettering their lives with highly-desirable benefits at widely-acceptable costs through various products and/or services. Developing a significant comparative advantage in products-and-prices is ideal, and so is either maintaining or regaining that advantage amidst constant changes in cultures, economics, technologies, et cetera—but this task is very challenging, as profitability naturally attracts competitors who figure out how to replicate what you're doing or perhaps even to improve upon it.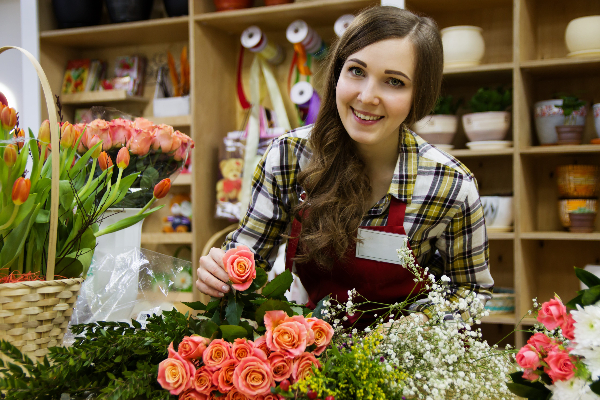 Anytime your competitors offer comparable options to yours, which is normally the rule rather than the exception, your prospective customers will resort to other factors to help them to decide which option to buy. Those secondary factors may include branding, but they often center around your personnel, such as your company values, how well you're known and liked and trusted, and (perhaps especially) how well you treat your customers—not merely in words but consistently in actions.
Customers (as your bosses) deserve to be treated well, and they naturally favor businesspeople who do so. Examples of thriving customer-centered corporations include Google, Apple, Amazon, Wal-Mart (before Sam Walton died in 1992), Costco, Zappos, Trader Joe's, Chick-fil-A, Toyota, Southwest Airlines, JetBlue, Ritz-Carlton, and Netflix. Treating customers well helps to retain them, which is normally cheaper than finding new customers—and it also helps to improve your average customer reviews, which are generally far more powerful than your own marketing in attracting (or sometimes repelling) new customers.
How to Achieve Customer-Centered Operations
Developing a customer-centered company should start with YOU. You should commit to obey the Golden Rule to love/serve your neighbor as yourself—and, as you increasingly commit your heart-and-mind to these values, they will naturally motivate corresponding words-and-actions, such as "thinking win-win" as you seek mutually-beneficial deals with your partners and employees and customers.
As you allow the Golden Rule to govern your life, you can then lead those around you (including through your organizational structure) to do likewise by exemplifying such values, proclaiming such values through an inspiring vision and/or mission statement, hiring competent people who already share such values somewhat, and reinforcing such values through company culture. Such values should ideally guide all company operations (including sales) and remain part of every employee's job, even if/when you hire specialists dedicated exclusively to customer service.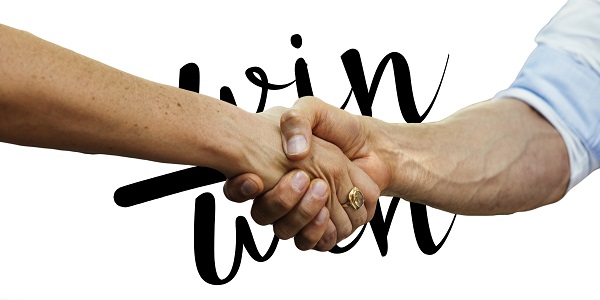 Developing laudable character, whether as individuals or as companies, is the surest way to develop a laudable reputation, and no amount of "reputation management" can compensate for its lack. Because performance tends to improve whenever it's regularly measured, it's helpful to regularly measure customer satisfaction by both conducting minimal surveys and periodically analyzing their results—and by monitoring customer reviews, especially on the Internet.
As for specifics, customer service relies upon effective interpersonal communication, which both requires and facilitates trust, and helps us to both develop and maintain good long-term relationships, including business relationships. Such communication includes properly setting customer expectations, explaining how to use your products and/or services, announcing important developments, and resolving customer concerns promptly with an unpresuming empathetic positive attitude, which may sometimes require involving additional personnel.
5 Ways to Serve Your Crowdfunding Backers
Customer service might not be as vital for your success in short-term crowdfunding (while you still enjoy a clear advantage in benefits-and-costs) as in long-term e-commerce, but there's no reason to delay developing good habits. While your crowdfunding campaign is active, you may want to practice serving your backers in the following five ways.
Welcomes. It's good practice to thank each new backer personally for pledging, and even to engage them in conversation if you have enough time to spare. Welcomes are also ideal moments to invite backers to join an affiliate marketing program (like our popular Cashback Network) to earn some spare cash by recruiting other backers. Ideally, your campaign page should have already helped set your backers' expectations for your business relationship—but, if not, then this may be an appropriate time to do so.
Updates. It's also good practice to communicate regularly (perhaps bi-weekly) with your backers through updates about developments in your campaign. As for what to report, Kickstarter provides suggestions about effective content, which may include answers to common questions, notices about new developments, alerts about looming deadlines, celebrations of campaign milestones, expressions of gratitude, and/or encouragement to affiliates. And each update may be appended with up to five cross-promotions with other campaigns, which usually yield far more pledges than complaints. Regular updates help reassure prospective backers that you're not a fraudster, and (according to one study) can even multiply your pledges.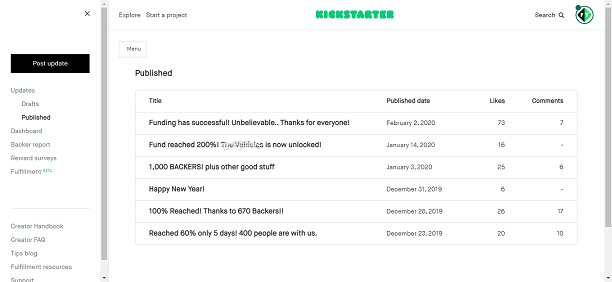 Comments. You should respond promptly to any feedback expressed in comments and/or messages, which proves to backers that you value what they want, and (like regular updates) provides added reassurance to prospective backers that you're not a scammer. Backers are often very willing (if not very eager) to provide creators with useful feedback.
Surveys. Along with passively awaiting unsolicited feedback, you may also actively solicit it through at least one unofficial mid-campaign survey, perhaps using some special software (like we've developed) to automate this process. Such surveys may invite your backers to tell you what almost deterred them from pledging, which features they value most, which "stretch goals" they prefer, which styles or colors they intend to choose, and/or where they intend for you to ship their rewards. Mid-campaign surveys on Kickstarter may also request (but never require) backers' e-mailing addresses and, if you collect enough of these (perhaps 1,000), then they may be used to create effective lookalike audiences to target with advertisements.
Farewells. Backers sometimes cancel their pledges for various reasons. If you don't initiate contact with them before they cancel their pledges, then you won't be able to initiate contact with them afterward, which is another good reason to greet each new backer personally, as detailed above. If you do so, and if they cancel their pledges, then you can try to determine their reasons, which information may help you to regain their support and/or minimize further cancellations.
---
If you enjoyed this blog entry, then you might also enjoy this podcast episode, which presents roughly this same information in a different form. You can also find all of these same tips (and more) in our comprehensive Ultimate Crowdfunding Success Guide, along with plenty more advice for running a successful crowdfunding campaign from conceptualization to fulfillment. Please download your copy today!