Your crowdfunding success is diminished without cross-promotions! Here's why and how to arrange them effectively…
---
Crowdfunding platforms such as Kickstarter and Indiegogo have helped campaigners to raise millions—but not without the marketing efforts from agencies such as Funded Today! Funded Today is the top marketing company to help crowdfunding campaigns reach and exceed their goals.
Within the last year, Funded Today has seen enormous success from assisting campaigners in cross-collaborating. Cross-collaborating is an exceptional marketing strategy where campaigners with similar concepts join together and cross-promote each other's campaigns. This leads to increased contributions for both parties, and without any cost other than time.
Without the help of Funded Today, campaigners would need to create their own network by reaching out to other campaigners, pitching their cross-promoting idea to them, and waiting for a response from an already-busy project launcher. But we at Funded Today maintain a constant network of campaigns to rely on for cross-promotions, plus a familiarity with each of those campaigns. Funded Today serves as a personal matchmaker for every campaign.
How Cross-Collaborations Work
Here's how this technique works…
Kickstarter recommends that project creators update their backers AT LEAST twice per week. Not only are these updates good for keeping backers informed, but they prove a way for the tight-knit community of creators to support one another.
Each time a project updates its backers, that update will end by featuring four other complimentary campaigns to support, each one through a short advertisement that includes an image. In return, those four featured campaigns within Funded Today's network will plan to feature that one campaign in their own updates. These pairings are selected both thoughtfully and carefully.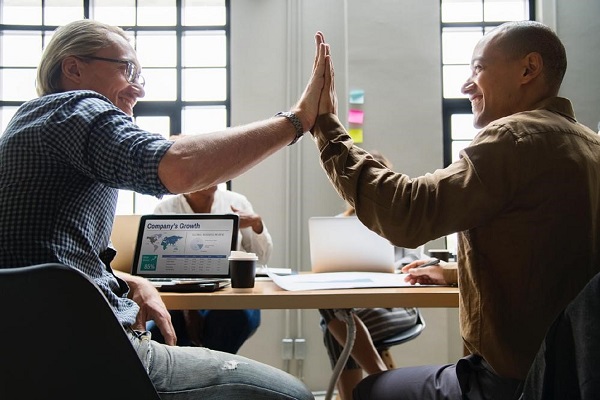 This is extremely beneficial because a creator's campaign is shown to the most responsive audience possible. Your campaign is targeted to backers ALREADY on Kickstarter who have ALREADY backed projects. Essentially, it's a referral from an already-trusted campaign that they support—and numerous studies have shown that referral marketing is one of the most successful forms of marketing in regards to conversions or sales.
In our extensive experience, crowdfunding cross-promotions yield conversion rates between 4% and 16% on average, and these rates are normally higher than those for any other crowdfunding marketing technqiue. Plus, since 2014, we've raised more pledges total from cross-promotions than from any other technique except for ads—more than from affiliate marketing, more than from public relations, and far more than from our social-media posts.
Check out some of our cross-collaborating success stories below!
Cross-Collaborations Case Studies
Here are some examples of how much cross-collaborations raised for some of our 3,000+ crowdfunding clients.
Onsen raised $747,205 during their Kickstarter campaign with the help of 6,209 backers. Of that total, $76,727 (10%) came from cross-promotions alone.
JUISIR raised $579,348 with the help of 915 backers. Of that total, $57,569 (10%) came from cross-promotions alone.
The ERGO Posture Transformer raised $767,193 during their Kickstarter campaign with the help of 6,653 backers. Of that total, $62,144 (8%) came from cross-promotions alone.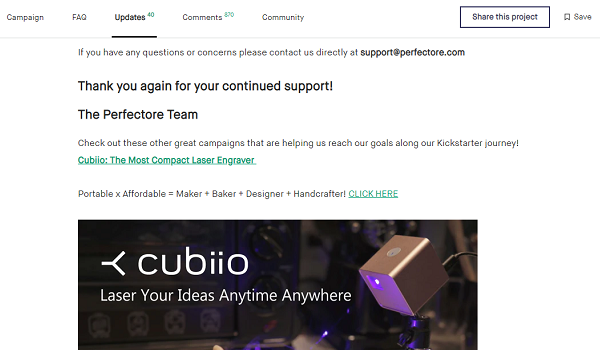 Alpha Pillow raised $35,290 from cross-promotions.
WeatherFlow Tempest raised $27,613 from cross-promotions.
Legion Solar 4 raised $24,711 from cross-promotions.
Smart Belt 3.0 raised $23,112 from cross-promotions.
And cross-collaborating isn't profitable only for Kickstarter projects, but also for Indiegogo projects, as SpineGym proves…
SpineGym first launched their project on Kickstarter and raised $463,996 with the help of 2,255 backers. During that time, they cross-collaborated with other campaigners and raised $41,000 (9%) from cross-promotions alone. After successfully surpassing their Kickstarter goal and finishing their campaign, they then launched their project on Indiegogo InDemand. Over the following 8 months, Funded Today helped SpineGym to raise an equal amount of $40,000 solely from cross-promotions.
---
Our next cross-collaborating success story could be YOU! We invite you to learn more about successful cross-promotions by listening to this podcast episode. If you have further questions or if you want to participate in our network, then please contact Funded Today's Director of Cross-Collaborations, Colton Bybee, right away via colton@funded.today!
Subscribe
For more articles like this one!