Who's Indiegogo's #1 Marketing & Video Agency?
If you are curious who Indiegogo's top marketing and video agency is, the answer is Funded Today.
Funded Today is in fact Indiegogo's best marketing and video company.
Funded Today has sent more traffic, and generated more pledges for Indiegogo campaigns, than any other company.
Indiegogo's Best Marketing and Video Companies
You don't have to take my word that we are Indiegogo's best video and marketing company.
The proof is public record, and comes directly from Indiegogo themselves.
Indiegogo used to have a public "Partners" page that highlighted all of the Indiegogo agencies and companies, and showed who were the best. The Partners page is no longer available, as Indiegogo took it down (more on this later - see below), but thanks to WayBackMachine we can see the rankings, and Funded Today at the top: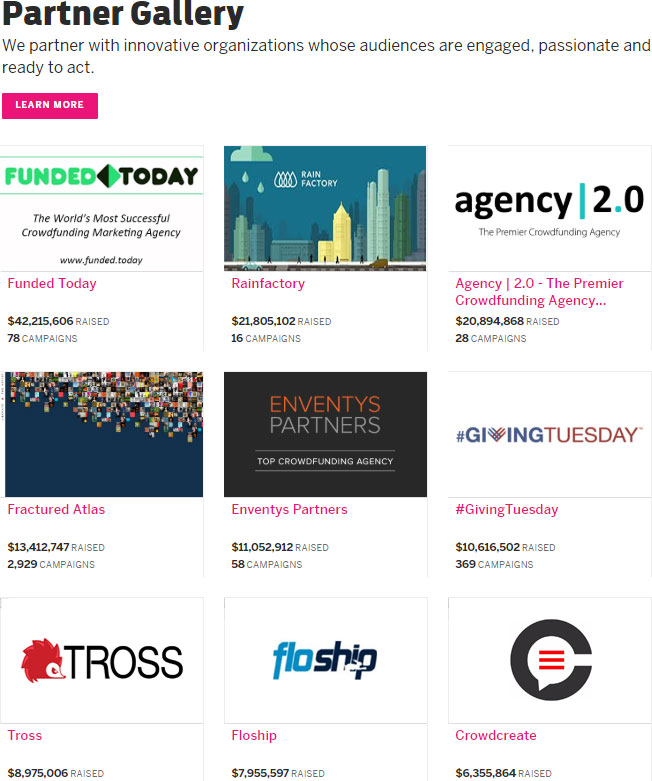 As you can see, Funded Today had raised $42 million, and had worked on 78 campaigns, as of April 25th, 2017. This is more than double the amount raised compared to any other agency!
So when looking at the amount raised on Indiegogo, Funded Today is the best marketing and creative agency.
Indiegogo's "Experts"
From the image above, you can clearly see who Indiegogo's best agencies, companies, and partners were. This page used to be hosted at https://www.indiegogo.com/partners. If you go to this url, you will see that it redirects you to an "experts" directory.
So, now that begs the question: why would the company that raised the most money for Indiegogo not be listed on the "experts" directory?
The answer is simple, straightforward, and a little sad.
The Story Behind Indiegogo's Best Marketing and Video Agency
Funded Today received additional exposure by being the best Indiegogo agency, and being listed at the top of the partners page. With this additional exposure, campaign creators would reach out to Funded Today.
As consultants in the crowdfunding space, the specialists at Funded Today would answer the question: Which Platform Is Better? Kickstarter or Indiegogo?
Well, we would give the honest answer: Kickstarter is better than Indiegogo. Funded Today has data on thousands of campaigns, and has helped raised hundreds of millions of dollars. We know this answer inside and out. You can read more about our analysis and explanation here: Kickstarter vs Indiegogo.
Because we advised people to launch on Kickstarter, campaign creators would decide to not launch on Indiegogo, and instead would launch on Kickstarter.
Indiegogo really disliked this, so the way to silence Funded Today was to not make us an expert. Even before Indiegogo took down the "Partners" page, Indiegogo actually removed Funded Today from the "Partners" page.
Luckily with the WayBackMachine, there is a permanent record showing we are the best Indiegogo Marketing and Video Agency. And Funded Today still is an Indiegogo Expert, and Funded Today still works on Indiegogo campaigns. It's just that if we have a choice between Kickstarter and Indiegogo, we advise people to launch on Kickstarter, and transition to an Indiegogo-InDemand campaign after a successful Kickstarter raise.
If you'd like help with your campaign, whether that's on Kickstarter or Indiegogo, Funded Today is happy to help. You can apply for our services here.
Subscribe
For more articles like this one!