Social media is an important tool for promoting and building support for a crowdfunding campaign. By sharing updates about your campaign on social media, you can create buzz and attract new backers. So, how exactly can you do this?
1. Demonstrating Social Proof with your Social Media Profiles
Maintaining social media profiles for your business increases its legitimacy. And, when people see that others are supporting your project, they are more likely to do the same. By sharing updates about your campaign on social media, you can showcase the support you are receiving and create social proof.
Social media profiles can help to achieve these results in a number of ways. For example:
Verified accounts: Many social media platforms offer verified accounts to businesses and organizations, which helps to establish the authenticity of the product and the company behind it.
Customer service: Social media profiles can serve as a way for customers to get in touch with a company and ask questions or raise concerns about a product. Responsive and helpful customer service can help to build trust and legitimacy for a product.
Product reviews: Social media platforms often allow users to review and rate products, which can help other users to gauge the quality and effectiveness of a product.
Brand presence: A strong and consistent presence on social media can help to build a brand's reputation and establish it as a legitimate player in its industry.
So, identify the social media platforms where your target audience is most active, create profiles on them, and determine the frequency and types of posts you will share.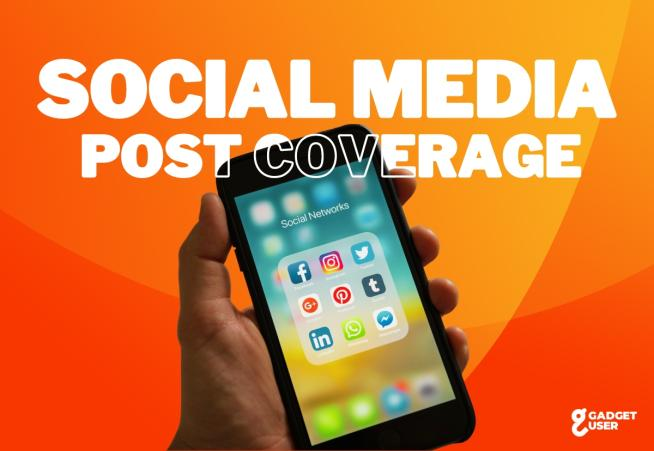 2. Social Media Post Coverage
Social media posts can be used for everything from inviting feedback about your product during development phase to raising pledges during campaign phase. Here are some ways to use posts to support crowdfunding projects:
TikTok Creator Marketplace: This is a new and upcoming platform which allows you to work with professional video creators for an affordable price. I've found that you could spend around $100-150 USD per TikTok video which is quite affordable. This can help expose your campaign to new audiences and increase your visibility on social media.
Ask for it directly: Post a message on your social media profiles asking for feedback on your product. You can ask specific questions to guide the conversation, such as what features users would like to see, or what challenges they have experienced with the product.
Campaign updates: As your campaign progresses, you can use social media to announce new developments, such as updates about your product, milestones that you have reached, and about any new rewards or perks you are offering. This can help keep your backers engaged and encourage them to continue supporting your campaign.
User engagements: Social media allows you to directly engage with your backers and potential supporters. Take the time to reply to comments and messages from users who have feedback about your product. This can help you can build a strong community of supporters, to create a personal connection with them, to build trust, and to establish your company as responsive and open to feedback.
Surveys and polls: Many social media platforms have built-in tools for creating polls and surveys, which can be a great way to gather feedback from your followers. You can ask questions about your product and collect responses in real-time.
Influencer collaborations: Consider reaching out to social media influencers or industry leaders who have a following that may be interested in your product. They can help to spread the word about your campaign and attract new pledges.
It can be more challenging to convert social media followers into backers or customers compared with e-mail subscribers. The main reason is users' attention spans—people may scroll through their social media feeds quickly and may not always stop to read or engage with a post, especially if they are not already familiar with your brand or product. Plus, with e-mail marketing, a user has to actively choose to opt-in to receive updates from you, which can indicate a higher level of interest compared to someone who simply follows your page on social media.
3. Advertising on Social Media
Ads are potentially far more effective than posts at drawing pledging traffic to crowdfunding websites. They can be used both pre-launch to generate e-mail leads and post-launch to draw pledging traffic to your campaign page. Here are some tips for devising effective social media ads for crowdfunding campaigns:
Define your target audience: Use targeting options to reach users who are most likely to be interested in your product. Most platforms allow advertisers to target users based on factors such as location, age, interests, and behaviors.
Use compelling visuals: Imagery is what draws attention to ads more than anything else, so use eye-catching images or videos to grab users' attention and to showcase your product.
Use a clear call-to-action: Use text to explain your imagery and include a clear call-to-action in your ad, such as "Learn More" or "Sign Up," to encourage users to take the next step.
Test different ad types: Experiment with different ad formats, such as image ads, video ads, carousel ads, and collection ads to see which perform the best.
Monitor your ad performance: Use analytics if possible to track the performance of your ads and make adjustments as needed. This can help you to optimize your ad spend and get the best results.
It is not uncommon for certain platforms to be more effective at driving pledges for a Kickstarter campaign. Facebook and Google are both popular platforms that can be effective for promoting a campaign by attracting pledging traffic to it. According to Funded Today, which has run ads since 2014 for thousands of crowdfunding campaigns:
Facebook's advertising strengths are in developing prospect lists (or lookalikes thereof) according to their personal characteristics (like demographics and/or behaviors and/or interests) and then targeting these lists short-term to exhaustion. These strengths are well-suited for re-targeting in e-commerce, and also for primary targeting in crowdfunding, since creators need to raise as much funds as quickly as possible from a members of a specialized demographic segment who don't necessarily know that they want what's being offered until it's presented to them. Facebook ads also allow you to determine which ad variants are most effective, which you can then transform into Facebook posts.
Google's advertising strengths are in targeting people long-term according to their demonstrations of interest in buying specific products or services. These strengths are well-suited for primary targeting in e-commerce, but they aren't as well-suited for crowdfunding, in which potential backers are best targeted not for their present behavior (like window-shopping for similar products) but for their past behavior (like having backed similar projects)—but Google ads can still prove useful in attracting supplemental pledges for crowdfunding campaigns that respond well to Facebook ads. Google can also help you to optimize your campaign page for search-engine visibility by identifying relevant keywords and phrases in your page content and titles.
Ads are hard to get right, but the right ads for the right projects can potentially raise far more pledges than any other fundraising technique, as Funded Today has proven repeatedly.
4. Using Social Media to Promote your Giveaways
Giveaways can be an effective way to capture the contact information of potential supporters, which you can then use to promote your crowdfunding campaign or future products. Where can you start?
You can quickly boost your product's popularity and reach thousands of gadget enthusiasts through a gamified giveaway campaign. Gadget User's beautifully-crafted, customised giveaways can quickly grow and engage your e-mail list, turning them into paying customers. This is ideal for gadget and tech e-commerce products, as well as Indiegogo, Kickstarter, Shopify, Amazon stores, and more.
Gadget User will take care of everything, including setting up, hosting, and promoting the giveaway on their website, social media, and e-mail. Typically, it takes 4 to 8 touchpoints in a marketing funnel before a conversion happens. But a Gadget User giveaway can speed up this process with multiple interactions happening throughout the campaign.
These tactics will help you succeed in your next crowdfunding campaign. You can find extra details on how Kickstarter works here.
---
Gadget User is an Australian-based online gadget platform that features innovative gadgets and unique tech products. Launched in 2020 in Australia by Patrick Castellano, Gadget User has helped more than 120+ e-commerce brands grow their e-mail lists quickly through viral giveaways.
Subscribe
For more articles like this one!